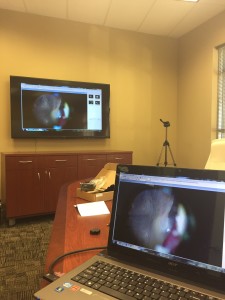 The Firefly video otoscope is available in both a wired and a wireless version and has become extremely popular because it offers high-quality images at an affordable price. For those that own the wireless version (Item# DE-550), a relatively unknown Firefly TV-Kit is also available and certainly worth a peek. This accessory allows users to project real-time video or images from their laptop to a larger TV screen.  Since the conference room at Oaktree Products has a large 75-80″ TV screen, it seemed logical to set the Firefly TV-Kit up to test it out. As seen in the image to the right, the Firefly TV-Kit works very well and is a great addition to anyone who owns or is interested in owning a wireless Firefly video otoscope.
The Firefly TV-Kit (Item# FF-ES106) comes packaged with three components: 1) wireless receiver, 2) TV output cable, and 3) AC outlet adapter. The set-up is very straight-forward and easy. With your wireless Firefly video otoscope already set-up on your laptop, follow these four easy steps:
Connect the wireless receiver to the AC outlet adapter
Connect the black end of the TV Output Cable into the wireless receiver
Plug the AC outlet adapter into an outlet
Connect the yellow end of the TV-output cable to the video input jack on the TV
Depending on the TV, it may be necessary to select "External Video Input" as the video source from the TV menu.  To actually see how the TV-Kit is set up, go to the Oaktree Products YouTube Channel to access Wireless Firefly TV-Kit Set Up. If you are interested to see how the Firefly images compare to images obtained with the Welch Allyn Digital MacroView Video Otoscope, check out the the Talking PowerPoint Video Otoscope Comparison on the Oaktree Products YouTube Channel.