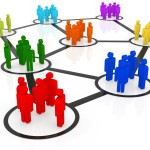 Any proficient business executive is likely to tell you that segmenting your potential customer base is an effective initial step when unravelling consumer demands. Once you've done some careful segmentation work, you can execute a strategy that caters to the exacting needs of a particular group (or segment) of customers.  Segmentation takes on many forms,  For example, you could slice and dice the market for hearing care services by examining median income, chronological age – even personality or social style of individuals within a segment.
With regard to hearing aid market penetration, the power of segmentation becomes apparent when hearing aid acquisition by degree of hearing loss is dissected as illustrated in Figure 1 to the right. Whereas 5% of the total hearing impaired marketplace has a profound hearing loss, 70% of that group possesses hearing aids or a cochlear implant.  In contrast, 20% of this same group has a moderate to severe loss with 50% of this group possessing hearing aids.  Finally, 75% of the entire population of people with hearing loss exhibit a mild to moderate high frequency variety with just 10% of this group possessing hearing aids.
Historically, the hearing industry has served the top 25% of patients in Figure 1. These are individuals, typically older in age, often with more complex problems, requiring more time and expertise to manage. Given these modest penetration numbers, one could argue that the business model we have created, one based on selecting & fine tuning hearing aids and predicated on multiple office appointments, is relatively effective at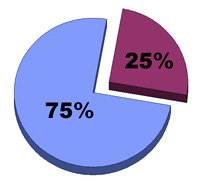 creating value for these two segments.  On the other hand, those in the bottom 75% of the pyramid – where the vast majority of adults with hearing loss reside –  are likely to have less complicated issues related to hearing loss, and probably don't require numerous appointments for adjustments and counseling.  This segmentation analysis has uncovered a critical nugget of insight: Our profession has not created a sustainable value proposition for 75% of the hearing loss marketplace.
A sustainable value proposition
Rather than ignore this huge swath of the marketplace, which is rife for an outside company to capture and potentially cut the professional out of the equation, it is imperative that all of us find ways to engage these patients in the process of improving their communication.  Undoubtedly, we want these patients to seek the services of an audiologist or hearing instrument specialist, but we have to offer them something that they value, and, at the same time offer our practices a viable revenue stream.
In order to accomplish these important tasks, it is necessary to grow the market by engaging those with mild, situational problems while also creating sustainable revenue for our practices.  This will require the wide scale adoption of new product categories. One such new product category is directed audio devices, such as HyperSound System (HSS), which is a new technology for those patients that need improved communication while watching TV at home. HSS works by first electronically converting audible information onto ultrasonic frequencies, well-beyond the range of human hearing.  The acoustic signal is reproduced using an emitter and transmitted in a beam of silent ultrasonic energy.  The nonlinearity of air demodulates this acoustic signal, thus reproducing the audible information in a narrow beam, such that it is heard only by those in the targeted area. All the patient has to do to use HSS is to sit down in the beam as shown in Figure 2.  No hearing aids are required.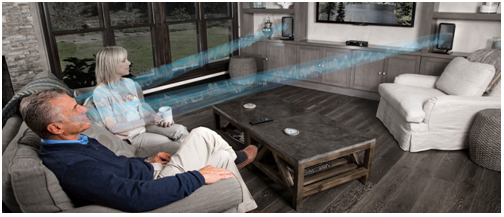 Preliminary studies of HSS on a limited number of study participants indicate that the HSS may be a viable device for the hearing healthcare market, as one recent study showed that individuals with a range of hearing losses received significant improvement on a speech in noise task in the unaided condition when using HSS. Work is also underway examining how a directed audio device, like HSS, can be used as a gateway product to speed the journey for those who may transition into conventional hearing aids. Additionally, because the margins for the HSS system are substantial, it provides the practice with reasonably good revenue stream.
Directed audio, a new category of product, provides the profession with unprecedented opportunities to grow the market for our services by offering the mild to moderate segment of the market something of value, while simultaneously generating a new stream of revenue for practices. It's truly a win-win scenario for those who embrace this new product category.  To learn more go to http://www.hypersoundhearing.com/ and enroll in the Innovators program.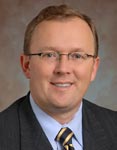 Brian Taylor, AuD is the senior director of clinical affairs for Turtle Beach. Prior to joining Turtle Beach, he was the  Director of Practice Development & Clinical Affairs for Unitron.  During the first decade of his career, he practiced clinical audiology in both medical and retail settings. Since 2004, Dr. Taylor has held a variety of management positions within the industry in both the United States and Europe. He has published over 30 articles and book chapters on topics related to hearing aids, diagnostic audiology and business management. Brian has authored two text books Fitting and Dispensing Hearing Aids and Consultative Selling Skills for Audiologists, both published by Plural, Inc. He can be contacted at brian.taylor@turtlebeach.com.
References
1. Nash, SD et al (2013). Unmet hearing health care needs:  The Beaver Dam Offspring study. American Journal of Public Health. 103, 6, 1134-1139.
2. Lin, F. et al (2011). Hearing loss prevalence and risk factors among older adults in the United States.  J Gerontol A Biol Sci Med Sci. 66: 582-590.
3. Lin, F. et al (2011). Hearing loss prevalence in the United States. Arch Intern Med. 171.
4.Wallhagen, MI & Pettengill, E. (2008).  Hearing impairment: Significant but underassessed in primary care settings.  J Gerontol Nurs. 34:  36-42.