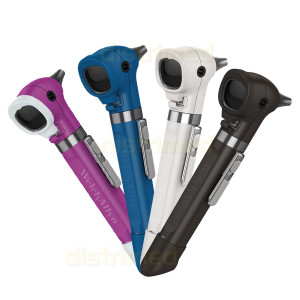 Make your own mark in the audiology clinic with a lightweight, durable pocket otoscope that offers easy customization to match your mood or style. The Welch Allyn Pocket Plus LED Otoscope is available in four modern colors including onyx, blue, purple/plum and white. Each otoscope comes packaged in a soft carrying case that includes two sets of eyepiece window and handle bumpers; one set is the same color as the actual otoscope and the other set is white. In the case of the white otoscope, since a set of white bumpers is already included, the second set comes in onyx. Window bumpers attach to the outer perimeter of the otoscope eyepiece whereas the
handle bumpers fit on the bottom portion of the otoscope handle. Bumpers not only offer a fun and easy way to change the look of your otoscope, they provide added protection and durability to your investment from accidental drops. Additional bumper colors (optional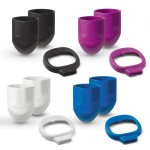 accessory kit) are available to pack more flare and fun to your busy work days. This otoscope is only available from Oaktree Products; if you are attending AudiologyNow2016 in Phoenix, come to booth #535 and see them for yourself. Otherwise, figure out which otoscope is the right one for you by accessing An Exclusive Gem From Oaktree Products portion of the Otoscope Solutions section on the Oaktree Products website.