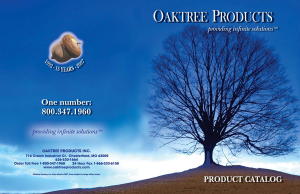 Channel your inner Picasso, your Milton Glaser, or your Ansel Adams for a chance to have your art work showcased on the cover of the 2015 Oaktree Products Catalog! No need to be a starving artist either as the winner will receive a $250 cash prize!  Submissions may be composed of any print medium (i.e. original photograph, stock photo with proof-of-purchase, original artwork, etc.) and ideally include a representation of an oak tree and/or some other applicable representation of Oaktree Products.  Submission requirements are as follows:
Each original submission must be emailed to Oaktree Products at otp@oaktreeproducts.com in PDF form or by mail to Oaktree Products Catalog Cover Contest, 610 Spirit Valley East Drive, Chesterfield, MO 63005 and postmarked no later than November 17, 2014.
Submission should allow for standard Oaktree Products Catalog text on the front cover, back cover, and spine.
Cover size must be 11" x 17" with ¼" center gutter/binding area that also allows for 1/8" bleed
300 dpi
CMYK full size color
NOTE: PDF file will be used for judging purposes; selected winner will be responsible for submitting standard file necessary for print publication at later date.
There is absolutely no fee for participation.  Individuals can submit more than one entry. Submissions MUST be postmarked no later than November 17, 2014.  The winner will be chosen by the Oaktree Products Catalog committee and notified within 28 days of the closing date. Click full list of contest rules to read up on details.