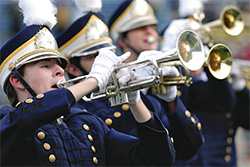 Band Week at most college campuses is typically filled with tryouts, uniform fittings, and very long practices. That's how band camp for the University of Akron's marching band had been in the past. This year it was a bit different. Along with the typical band week activities, students from the Northeast Ohio AuD Consortium's (NOAC) chapter of the Student Academy of Audiology (SAA) were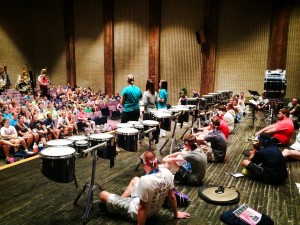 able to host their first "Band Together to Prevent Hearing Loss" project on Sunday, August 18, 2014. Members of the University of Akron's marching band were exposed to a presentation on noise-induced hearing loss (NIHL) presented by NOAC chapter SAA students. In addition, with the support and supply donations from Oaktree Products of St. Louis, MO, every band member was offered the opportunity to be fit with custom earplugs.
The brief NIHL presentation addressed the issue of noise exposure, how it can damage
hearing, and the important steps to take in order to prevent noise related hearing loss.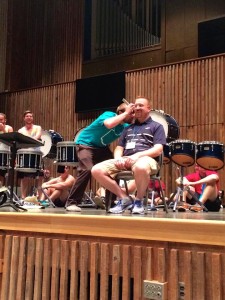 The University of Akron marching band members were also educated on the role of audiologist, oriented on safe listening levels as it relates to their personal sound devices, and presented information on the importance of hearing protection in general and with regard to their musical careers. For example, "SLM Shady", our very own sound level meter, measured the intensity level of the marching band's performance during their rendition of the University's fight song. The average noise level exposure was documented at 107.8 dBA. Assistant band director Andrew Feyes, seated and pictured left with 3rd year AuD student Leo Walter, participated in a live, on-stage demonstration of the earmold impression process.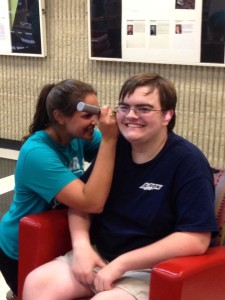 Following the presentation and demonstration, more than 75 members from the University of Akron marching band proceeded with having earmold impressions made in order to be fit with custom ear protection. Eighteen AuD students from the NOAC Student Academy of Audiology helped carry out this event with our chapter advisor Dr. Erin Miller present to oversee each earmold impression. Once impressions were taken, custom comfort earplugs were ordered with reduced bulk pricing through Great Lakes Earmold Laboratory, Inc. Pictured right is 3rd year AuD student Lorie D'Elia performing otoscopy on a University of Akron marching band student prior to making earmold impressions of both ears.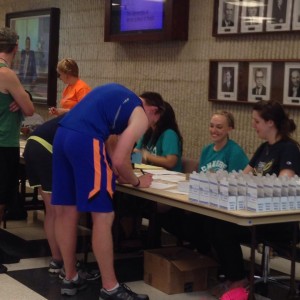 Band Together to Prevent Hearing Loss was a great success in its inaugural year. It provided NOAC chapter of the SAA a way to reach out to our community in northeast Ohio. With the help of Oaktree Products, Inc., more than half of the local marching band took advantage of the opportunity to be fit with custom earplugs in order to protect their most valuable instruments – their ears! We hope this inspires SAA chapters across the country to put together similar events with their University's marching bands to educate and provide custom hearing protection. Are you interested in putting on an event for the marching band at school? If so, contact Peytra Osetinsky (posetin1@kent.edu) or Lorie D'Elia (lad63@zips.uakron.edu) for more information.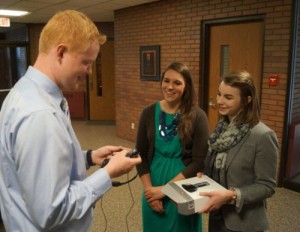 Peytra Osetinsky (pictured far right) grew up in Lexington, Kentucky and received her Bachelor's degree from the University of San Diego in Interdisciplinary Humanities with a focus in European Studies. The combination of patient care and technology in Audiology inspired Peytra to pursue this profession. She is currently a third year doctoral student at Northeast Ohio Au.D. Consortium (NOAC). Her interests include tinnitus, balance, and hearing aids. Peytra and her sister, an ENT Resident, hope to one day open a private practice together.  Lorie D'Elia (appearing in the middle) completed her undergraduate degree at The Ohio State University in Columbus, Ohio (Go Buckeyes!), where she studied Speech and Hearing Science with a minor in Disabilities Studies. Lorie is currently a third year AuD student at the Northeast Ohio AuD Consortium, a joint program combining the University of Akron, Kent State University, and the Cleveland Clinic Foundation. Lorie's clinical interests include diagnostic audiology, hearing aids, telepractice, and vestibular assessment. Lorie is excited to see where the field of audiology takes her! In her free time, Lorie enjoys running, pintrest-ing, playing volleyball, and exploring the Cuyahoga Valley National Park.