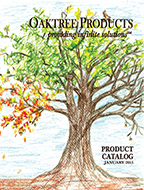 The new 2015 Oaktree Products catalog has arrived and en route for delivery to your clinical practice. Apart from the nearly 4,000 products available at your finger tips, there have been relatively few price increases for 2015. As a matter of fact, there are a handful of price reductions on some popular products including tubing air blowers, the 4-packs of Rayovac Extra Advanced Zero Mercury batteries, the 3-part soaking tray, and the Welch Allyn Macroview Otoscope Head to name a few. There are also new products making an appearance in the Oaktree Products catalog for the first time and worth checking out including the LED Ear light (page 39), the Vanish Tube Dye System (page 60), the Otowave portable tympanometer (page 55), the free Purell Dispensers (item# 1928-04 and 8828-06 only, page 21) when you purchase two or more instant hand sanitizer refills (item# 1903-02, 1305-03, 8803-03, 8705-04) , and the Café Valet One Cup Coffee Brewer (page 119).
As chosen by popular vote, this year's cover was selected from our first Submit-Your-Own Oaktree Products Catalog Cover Contest. It is a crayon drawing made by Maureen Wilkerson, a recently hired customer service representative at Oaktree Products. Be sure to check out all the different catalog covers on our Pinterest board Catalog Covers Throughout the
Years.  Needless to say, we have come a long way since the 1992-1997 covers! If you do not receive our new catalog in the next couple of weeks, request a catalog online or contact customer service toll free at 800.347.1960 to have a copy sent out to you. Enjoy!!!!!!