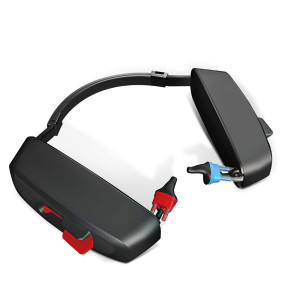 The VitaSound Hearing Protector is a relatively new do-it-yourself fitting system designed to safely create custom earplugs utilizing the SonoFit delivery system. The SonoFit system is a headband connected to two silicone-filled inflation pumps (one on either side of the head) and a corresponding earpiece.  Once positioned on the head, each earpiece (color-coded red for right and blue for left) is inserted into the appropriate ear canal.  Upon activation, the inflation pump injects an optimal amount ofsilicone into the earpiece. The patented earpiece is comprised of an ear canal-shaped core that is covered with a medical-grade silicone bladder.  As the inflation pump delivers the silicone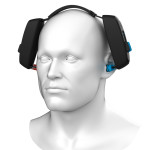 material, it fills the empty space between the core and the bladder, allowing the bladder to conform to the shape and size of the individual's ear canal. For a visual illustration of the process, watch the VitaSound animation short here (NOTE: there is no audio). The silicone always remains contained within the bladder and does not make direct contact with the external auditory canal. The silicone cures in 5 minutes.
After the material fully cures, the headband is removed and the earpieces are detached from the SonoFit delivery system. The faceplate is then adhered to the custom ear plug. A detachable lanyard may be used to offer users a corded pair of customized ear plugs. Each
VitaSounds Hearing Protector (item# VSHP-150) comes packaged with one pair of hearing protectors, two faceplates, one carrying pouch, one bottle of fitting solution (to use when using the SonoFit delivery system to make the custom ear plug and/or the user to use for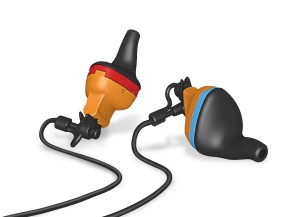 easier insertion of custom ear plugs), and one detachable cord/lanyard. According to product packaging, the VitaSound Hearing Protector provides an NRR of 28dB. For more information, contact Oaktree Products at 800.347.1960 and ask for customer service. Product information and pricing available on-line by logging into your account at www.oaktreeproducts.com and entering item number VSHP-150 or "VitaSound" in the search box.